Shopping Cart
Your Cart is Empty
There was an error with PayPal
Click here to try again
Thank you for your business!
You should be receiving an order confirmation from Paypal shortly.
Exit Shopping Cart
| | |
| --- | --- |
| Posted on March 10, 2011 at 6:45 PM | |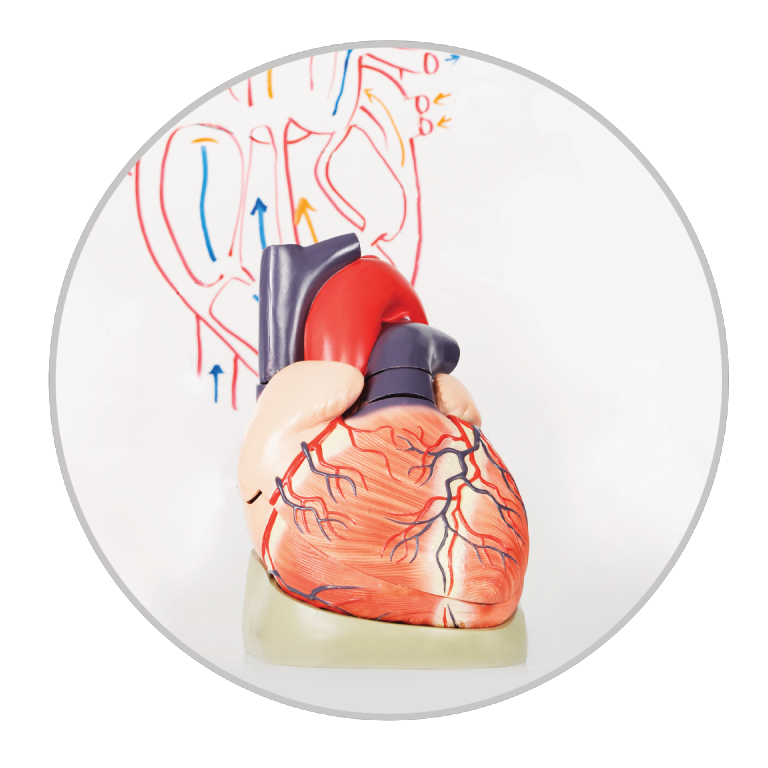 HEALING HEARTS
10/3/2011
A decade ago, scientists thought stem cells could simply replace dead cardiac tissue. Now, it seems things are even more interesting.
It was the kind of headline English newspapers do so well: "My faulty heart valve rebuilt itself with stem cells from my hip."
Underneath, the Daily Mail ran a picture of an ordinary-looking British housewife — blonde, bobbed hair, jeans and a pale blue cardigan. Her name was Barbro Lowed and her story was remarkable.

Having developed classic signs of heart failure, the 61-year-old retired flight attendant was told by her doctors that she would require a valve replacement. Her need was urgent, but the waiting list was two years long. Barbro's dizziness and lethargy were only getting worse.

Then she read an article — in the Daily Mail of course — about a man in Germany who had been "cured" of heart failure using stem cells. A couple of emails later and she was on the plane to Germany, heading to the consulting rooms of Professor Andreas Zeiher in Frankfurt.

Professor Zeiher told Barbro she could take part in a clinical trial of stem cell therapy where he would take stem cells from the bone marrow in her hip and inject them into the heart where they would repair the damaged valves. Total cost? Seven thousand pounds (about $14,000).

Money well spent if the treatment turned out to be successful, Barbro thought. The researcher harvested the cells in a five-minute procedure, "cleaned and processed" them, and injected the cells into the heart via catheter. Six weeks later, the procedure was repeated.

Barbro noticed the improvement quickly, she told the paper. "Five months later I was able to go for walks without sweating and becoming breathless. I felt fantastic." Another two months later, a scan showed the valve had repaired itself. "I have my life back," she said.

Heart disease causes half of all deaths in developed countries. In Australia, almost one in five people have a long-term cardiovascular condition. It's no wonder, then, that scientists like Zeiher are rushing to find an effective treatment using stem cells.

A frank heart attack, without any reperfusion, would kill millions of cardiomyocytes.

Imagine if it were possible to inject a bolus of cells into the damaged organ that would take clues from the local environment and shift tracks — rather than developing into blood cells, they would instead differentiate into heart muscle cells, replacing those killed by the infarct. In anatomical terms, there are good reasons to think that the heart is a good target for this kind of therapy, too. After all, it can be accessed with relative ease, and its cell populations aren't all that complex.

A decade ago, that was the hope for stem cell therapy. So the researchers approached the task at a run, moving quickly from studies in cell culture, to small- and large-animal studies and on to proof of principle studies or small clinical trials. In the early trials, the approach was straightforward: extract cells from the bone marrow, select those that show molecular signs of having stem cell properties, and inject them directly into the heart.

These first reports were exciting: "The investigators showed that these primitive bone-marrow-derived cells had undergone a process of differentiation that led them to express various markers specific to cardiomyocytes," wrote UK researchers A Mathur and J Martin in the Lancet a few years ago.1

"They concluded that locally delivered bone marrow cells were able to improve post infarct myocardial function by generating de novo myocardium."

But then things started to get murky. Other researchers trying to replicate the first findings discovered that the injected stem cells weren't simply turning into new heart cells.

Some seemed to be fusing with existing cells, undergoing a much more limited process of differentiation. Yet other studies showed that very few of the injected cells actually developed into cardiomyocytes; many carried on their normal path of becoming blood cells.

Despite these questions, experiments were still showing that in petri dishes, rats, pigs — and even humans — the stem cells improved cardiac function. The question was, why?

Challenging assumptions

A few years before Barbro Lowed received her treatment, an American teenager called Dimitri Bonnville underwent something similar after being shot in the chest with a nail gun by a coworker.

Rushed to hospital in February 2003, Dimitri had the three-inch long spike removed from his right ventricle, but the teenager soon suffered a heart attack, prompting his doctors to offer him an experimental treatment using circulating stem cells from his own blood. Dimitri soon became the first cardiac stem cell recipient in the US.

By June, doctors were reporting that he was recovering nicely. His left ventricular ejection fraction had risen to 40% from 25% at the time of the stem-cell infusion. The trouble was that his doctors didn't know for certain whether the improvement could be attributed to the stem cell transfer.

"We're thrilled with the improvement, but you can't definitively prove that the therapy is responsible," surgeon Dr William O'Neill told theHeart.org at the time.

Judging by his Facebook page, Dimitri is still alive and doing well.

A decade ago, the assumption might have been that the stem cells injected into Dimitri's and Barbro's hearts were guided by the cardiac environment into becoming heart cells, filling the place of dead ones. But as results have come in from stem cell labs around the world in recent years, it has become clear that the way these cells work when injected into the heart is much more complicated than scientists first thought.

That's why, in 2006, the European Society for Cardiology issued a consensus statement expressing concern about the proliferation of small, uncontrolled human cardiac stem cell studies.

"The initiation of similar small studies should be avoided as they are unlikely to add anything new to the field," they warned.

Fast forward to early 2011, and despite a plethora of research, many questions remain. "The basic notion of repopulating the bare patches of a lawn with new grass seed seems to have been a vast oversimplification," US cardiologist Dr Alan Heldman and colleagues wrote in the Journal of American College of Cardiology last month.2

Dr Heldman and his colleagues point out that many researchers have been critical of the rush to bring stem cell therapy into treatment for human hearts "before the cell biology is fully understood."

That's a view shared by Professor Richard Harvey, director of the Developmental and Stem Cell Biology Division at Sydney's Victor Chang Cardiac Research Institute. "There's lots of controversy in the field," he says. "And there are very few certainties."

At least some of the benefits seen from injecting cells arise because the injected cells secrete some pro-vasculogenic factors, Professor Harvey says. In other words, the stem cells may be stimulating the growth of new tissue, rather than themselves differentiating into cardiomyocytes.

Better understanding

The good news, Professor Harvey says, is that in recent times the number of proper, controlled trials in this field has definitely been increasing. A search of the US Government's clinical trials database reveals 395 cardiac stem cell trials are underway or completed.

Some of these trials have delivered patchy results, forcing researchers to finetune their approaches: modifying the cells, examining the benefits of stem cells from different sources, and using them to treat different stages of heart disease from acute, post-MI therapy to the treatment of people with long-term heart failure or even angina.

While some continue to study bone marrow cells, others are looking elsewhere, for example at stem cells already present in the heart.

One such group is led by Dr Eduardo Marban of the Cedars-Sinai Heart Institute in Los Angeles. They have been given $US5.5 million ($5.4 million) from the California Institute for Regenerative Medicine (headed by Australian Alan Trounson) to isolate and expand cardiac stem cells taken from the hearts of patients with advanced ischaemic cardiomyopathy. The goal is to inject the stem cells back into the cardiac muscle to repair the damaged tissue and form new cardiac muscle and blood vessels.

In Australia, a Melbourne company called Mesoblast has just reported interim results from a phase II trial using adult stem cells in patients with congestive heart failure. The company's product — Revascor — is an "off-the-shelf" product using mesenchymal precursor stem cells from healthy donors.

In the trial of 60 patients with moderate to severe CHF, the company has treated 45 patients with one of three different doses of Revascor while 15 patients received standard care only. In six months of follow-up, 93% of patients in the control group experienced severe adverse cardiac events, compared with 44% in the treated patients. Death from cardiac causes was 13% among controls and 0% among those given Revascor.

Mesoblast's CEO Professor Silviu Itescu explains that the cells in Revascor do not differentiate into heart cells. Instead, when the cells come into contact with damaged heart tissue, they "secrete a cocktail of factors that are involved in blood vessel growth and cardiomyocyte survival". They help regenerate cells, not replace them.

The company's current trial is due to wrap up in the middle of this year, and Professor Itescu says the intention is to get into a phase III trial as soon as possible after that. That's a step that no other stem cell therapy for heart disease has yet taken — but he's certain others will make it soon.

In his view, heart disease is a big enough area to accommodate a range of different stem cell approaches, some that "regrow the lawn" by differentiating into cardiac cells, and others that stimulate the heart to repair itself.

"We're going into a field that is ripe for a variety of complementary technologies," he says. "Some will hopefully be approved in the near future, and others will not."

If so, it might not be long until stories of heart valves rebuilding themselves with stem cells from a patient's hips are no longer worthy of headlines.

References
1. Lancet 2004; 364:183-92.
2. Journal of the American College of Cardiology 2011; 57:466-68.
Better still, why not take care of your own heart, and keep it ticking happily till the end of time!
Consider a program to prevent and restore your heart to superb health.
Categories: HEART
/